본문 영역
Destination China, Orientation for Artists and Cultural Managers

Writer : Judith Staines _ Europe Editor of culture360.org 2012.03.05 Asia > China
Destination China, Orientation for Artists and Cultural Managers
[FOCUS] A Review on 『Europe-China Cultural Compass』
---
With the world's fastest growing economy, a vibrant cultural scene, enthusiastic audiences, amazing new venues popping up across the country and an intensive focus on cultural industries, China's magnetic appeal for cultural practitioners worldwide is undeniable. But it is a complex and highly diverse country. The extraordinary pace of change in recent years sits alongside traditional, distinctive cultural codes and practices which underpin the process of communication and doing business.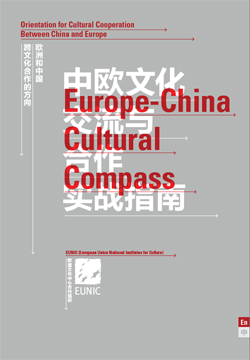 『Europe-China Cultural Compass』
From Chinese Cultural Policies to Definition of Terms
The 『Europe-China Cultural Compass』 is a new, timely publication aiming to guide artists and cultural managers through the process of developing projects in China. But that's just one side of the story – this smart concept book comes in two versions. The English language Compass targets cultural managers and practitioners in Europe who want to work in China, while the Chinese language Compass is for Chinese cultural operators who want to work in Europe. Both are available as free downloads. There's a core of common content, orienting the reader on aspects such as cultural difference, values and communication, alongside specific context advice, cultural sector policy and framework, references and case stories. Although intended for cultural sector practitioners in Europe and China across all arts disciplines, this thoroughly researched professional publication has much to interest Korean performing arts managers – and others - who want to work in China.
The 『Europe-China Cultural Compass』 offers a huge amount of valuable information, advice and references of interest to arts professionals anywhere who want to work in China or learn more about China-Europe cultural exchanges. The book presents cultural policy, legal issues, case studies and contextual practices, written by people with recent relevant experience in the field. This initiative can also be an inspiration for future researchers in exchanges between Europe and other Asian countries.




Katelijn Verstraete _ Assistant Director Cultural Exchange of Asia-Europe Foundation
The concept and creation of the COMPASS was commissioned by EUNIC partners at European Institutes for Culture in Beijing to an intercultural working team headed by Katja Hellkoetter as editor-in-chief. Experts in the team included Shen Qilan, Katelijn Verstraete, Emilie Wang, Judith Staines, Yi Wen, Roman Wilhelm, and many more external authors and contributors from China and Europe, with an editorial board of EUNIC partners.
. National Centre for the Performing Arts
'Are we meaning the same, when we say the same?' This was the leading question at the start of the EUROPE-CHINA CULTURAL COMPASS project, an initiative by partners of the EUNIC network of European Union Institutes for Culture in China – the Goethe-Institute, British Council and the Danish Cultural Institute. The project is part of an ongoing dialogue between Europe and China, responding to the need to document this dialogue, to reflect on it, for a continuous improvement in the process. It wants to contribute to the understanding of Europe-China cultural cooperation and help prepare cultural practitioners for collaboration. While the publication involved a year of research, with over a hundred interviews and discussions, it comes at a timely political moment, and will be presented at the launch of the 2012 EU-China Year of Intercultural Dialogue in Brussels on 2nd February.
How Can We Use Them?
Of course, Korean arts companies are much closer to China, both geographically and culturally, than their counterparts in Europe. They are more likely to have visited the country and to have a better basic understanding of the history, traditions, language and contemporary realities of China. Perhaps they have performed there, or hosted companies from China visiting Korea. So what can a Korean artist or cultural manager find in the COMPASS to help them tour, promote, develop projects or plan a China work strategy?

Successful and sustained international collaboration in the arts is a result of knowledge, information, skill and experience. The COMPASS aims to raise readers'' awareness to key concepts, histories and ways of working as well as to inform on policy and procedures. Indispensable for those wishing to work with Chinese colleagues, it also will open curious professional minds to elements we take for granted in our own countries that need to be examined and understood when we attempt to travel and trade.




Mary Ann DeVlieg _ Secretary General of IETM
Firstly, there is a fascinating Glossary of Chinese and English terms related to culture, identity, cultural industry and management. The etymology of many words commonly used in cultural exchange and arts management is rooted in entirely different concepts. It's a great starting point for understanding a country better and working out where some of the blind spots might be in cultural collaboration. For example, the Chinese word for public relations is the same as for propaganda – two entirely different concepts in Western European thought, and with totally different connotations.
Perhaps the most practical arts management information for visiting performing arts companies comes from Tobias Zuser in a chapter entitled 'How the Cultural Sector Works in China'. This describes the cultural policy framework and reforms and lists the main state-owned companies and ministries who are more-or-less inevitable players and/or partners in any international collaboration. Katelijn Verstraete reflects on performing arts exchanges in and between China and Europe, and their changing contexts. Case studies include an open, intuition-driven artistic collaboration between the Akram Khan Company and National Ballet of China – resulting in a co-production in 2007 – and interdisciplinary projects developed by Richard Sobey of the UK's IOU Theatre through 20 visits to China.
bahok _ Co-production with the National Ballet of China & Akram Khan Company (2008)
Photo _ Akram Khan Company's website ⓒLiu Yang
There are valuable insights into audiences and strategies for reaching them. We learn about the often fragile status of public relations, marketing and art critic professions in the cultural sector in China, whose attention can sometimes depend on payments from cultural presenters. A more positive angle on public relations comes from the Beijing office of Germany PR company, Storymaker. For the Dutch Cultural Centre coordinator, Monique Knapen, working on the EXPO 2010 project in Shanghai was an intense learning process. At first, marketing techniques successful in the Netherlands resulted in disappointing audience numbers in China:
We found out later that, given the type of work presented, the audiences were actually quite high. During the Expo the competition was fierce and the art crowd is still small. The Chinese press is another topic; they will only write about you for payment. We really thought from a Dutch, Western perspective that with a press agency we would be able to get press coverage. In other words: good things would get attention. But we found the press would write about anything – good or bad – but only after receiving a red envelope.
Emily Wang writes about venues and audiences for the performing arts in China – pointing out that many of the stunning new venues lack operational expertise and production capability. Often the budget spent on the 'hardware' is not matched by human resources and some venues are dark for much of the year. There is a lot of last minute planning instead of long-term 'cultural season' programming as in European countries. But a collaborative approach involving partnerships with many international professional experts is underway:
The development of performing arts venues in China still has a long way to go. […] with exchange and support from their international counterparts, they have the prospect of becoming essential hubs for creativity.
Wang also presents a useful breakdown of audience types and strategies for reaching the different segments. Further insight can be found in a dynamic article 'Boom and Dust' by the Shanghai-based German futurologist Christoph Daniel Jia, who outlines trends and projects future directions for Chinese society.

There is solid legal information from lawyer Philip Lazare on the main issues for foreign artists and companies operating in China. Astute advice on how to deal with the media in terms of censorship and what can and cannot be presented comes from the legal perspective as well as experiences through case studies. The process of applying for permits for each performance is dealt with, including the complexity of detailing every element of the performance (programme, performers, content etc.) well in advance, when many are subject to last-minute changes, as all those who work in the performing arts know.

The wide-ranging arts coverage in the COMPASS is inspiring, since the divisions between arts disciplines and where work is presented are often different in China. The Project Team collaborated on an excellent Project Process chapter which takes the reader through the different steps of preparing, planning, dealing with partnerships, timing and communications issues, evaluation and investing in sustainable cooperation.

This flagship publication deserves widespread attention and should encourage research along similar lines to support cultural collaboration between China and other countries, as well as being a great model for cultural orientation between Europe, Asia and other world regions.
Links

| Download COMPASS (English & Chinese)
GO
| EU-China Year of Intercultural Dialogue
GO
|
더아프로 국문기사 보기

Judith Staines is the Europe Editor of culture360.org and was the English language Editor of the 『Europe-China Cultural Compass』. A freelance writer, researcher and project manager based in the UK, specialising in European and Asia-Europe cultural cooperation and international mobility, she was on the International Editorial Committee for Korea Arts Management Serivce (KAMS) in 2011 and co-wrote the KAMS-IETM 『International Co-Production Manual』. She has worked on many projects for European cultural networks and was General Editor of on-the-move.org cultural mobility website 2004-2009.
Copyright

Origin