본문 영역

Past and Future Ten Years of the Performing Arts Market in Seoul

Writer : Yumi Hwangbo_Chief Editor, weekly@KAMS/theApro 2013.11.05 Asia > Korea
The Future Network Is to Be Built upon the Past Eight Years of the Performing Arts Scene
[Festivals/Markets] Round Table Session _ Past and Future Ten Years of the Performing Arts Market in Seoul

---
Moderator : The 10th anniversary in 2014 of the Performing Arts Market in Seoul (PAMS) is around the corner. Before addressing the issue of how to prepare for the future of the PAMS, two discussion sessions took place. The first discussion gathered together experienced planners who were discussing the functions and roles of the PAMS. On the other hand, the second session invited their young counterparts who could be called the "PAMS generation" because they started working as planners, producers and presenters in earnest eight years ago when the PAMS was first created.

The overall discussion sessions could be summarized in four questions. First, what identity should the PAMS have for its future? That is, should it serve as a distributor or a network? Second, this year, the PAMS takes place in several places: the National Theater of Korea, National Theater Company of Korea and Sejong Center. Even its networking parties are held in different venues. So it is necessary to gather together the PAMS' activities in one place in order to strengthen networking. Third, there is also a question about the selection process of the PAMS choice. The current pool of the jury is small but the door needs to be opened to more judges including foreign delegates from whom the actual demand for the PAMS choice is generated. It is also necessary to actively introduce author-oriented works. Fourth, at Korea Arts Management Service (KAMS), those in charge of the PAMS are replaced too often so the PAMS' network and professionalism have been somewhat weakened. Could you start by talking about the issues of your own organization or group and by sharing your views on the PAMS?

Geneviève Gouin (Gouin) As the moderator mentioned, I'm working at CINARS, an organization working on international exchange related to performing arts. The organization also contributed to the launch of the PAMS. CINARS was founded 28 years ago by Alain Paré, the cofounder and shareholder of the organization, in an attempt to expand the market a little more. To be more specific, CINARS started from the idea that while the arts environment becomes larger and larger, the current market isn't large enough for artists to develop their career. CINARS takes place every two years. Indeed, the most important purpose of CINARS is to give people chances to meet each other often and to share their ideas. In 2014, CINARS will celebrate its 30th anniversary. In 2012, about 1,300 people gathered together and about 170 performances were presented. CINARS also has the same issues that are faced by the PAMS. However, I believe that there is no such thing as the "perfect formula" or the answer satisfying everyone.

Patrick de Groote (Groote) : I have visited the PAMS for a long time. Our Sfinks Mixed Festival (Sfinks) is an international event and Korean performances have continued to be introduced during the festival. The audience of Sfinks love Korean performances. That is because these performances include both Korean identity and humanity's universal elements at the same time. So at the PAMS, I watch a variety of performances, meet with Korean artists and decide to work with certain troupes. In this process, I have made friends and I have also been able to created many networks. While doing so, I came to discover good festivals. For me, all of this has been enabled by the PAMS. The PAMS has an universal approach as a comprehensive arts market but festivals specializing in different fields that are linked to the PAMS complement each other. In the case of jazz, as the Jarasum International Jazz festival came to be linked to the PAMS, we have been given a chance to meet music at a higher level. As for the Ulsan World Music Festival as well, its program is in line with my concept. Under these circumstances, the large framework called the PAMS and diverse festivals and networks offered by the PAMS successfully complement each other to offer us new chances. I hope that there will be more opportunities to participate in these networks and this will be very useful for overseas visitors. That is because for a program, there would be a limit to satisfying each of Korean participants' diverse interests. So making the PAMS play the role of the largest frame of the network could be a possible approach.
| | | | | |
| --- | --- | --- | --- | --- |
| | | | | |
| Lee Jung-hun (moderator) | Geneviève Gouin | Patrick de Groote | Hiromi Maruoka | Oh Se-hyung |
The Network Itself is of Continuous Nature
Hiromi Maruoka (Maruoka) : The TIPAMiY(TIPAM), also known as TIPAM, celebrates its 18th anniversary next year. I'm running this performing arts platform and I have continued to participate in the PAMS since its first year in 2005. The TIPAM first started with the Tokyo Theater Festival and at that time, it took place only for two days during the festival, as a sample market. For the first few years, the TIPAM was focused on overall performing arts and it introduced any performing arts works regardless of their genres. However, while running this platform, problems related to the platform's size, budget, relationships with other markets and management arose and the TIPAM ended up not functioning properly. As I became its director in 2005, I made the platform start again by focusing on contemporary performing arts. That is because at that time, contemporary performing arts were drawing attention among other performing arts genres in Japan and the TIPAM wasn't covering all genres in a comprehensive manner. Furthermore, other markets dealing with what is more traditional and commercial existed and there were also channels other than markets through which artists were able to enter the global market. Above all, the TIPAM was dependent on support from an organization supporting arts and culture. Such support is given to organizations that contribute to international exchange and local creative activities. In other words, the TIPAM was run by citizens' tax. So we weren't able to continue to present any work we wanted to present. That is why I decided to make changes to this meeting.

However, the experimental aspect of contemporary performing arts and the concept of "market" are contradictory in terms of diversity. Festivals and event-oriented performances, which are maintained by ticket sales, are different in nature from what we do. For example, if a performance requires about 20 million won while the theater can accommodate only 20 people, I wonder why the performance is run in such a way. Personally, I don't like the pursuit of pleasure and sympathy but I rather feel a certain sense of incompatibility in such cases. I thought that we needed to change what makes us uncomfortable and have a chance to reflect on it. This is what the public sector needs to do. So I thought that it was necessary to share the values of those who want to talk about this in a public venue where content of discussion is not limited. Under these circumstances, in 2011, the performance venue was changed from Tokyo to Yokohama and the platform's name, from "market" to "meeting." Some of the works presented by the TIPAM are praised at once. However, in the case of other works, we need to watch them several times to understand them and we also need to talk about them with each other to catch their deeper meaning. In other words, just one performance is not all but a variety of talks and communication are needed. So we would like to meet such needs. Unlike large-scale platforms such as the PAMS and CINARS, the TIPAM is organized in an unstable situation in which we don't know if it will be held next year. That is because it depends on diverse situations in Japan, particularly the country's budget. It will finally celebrate its 18th anniversary next year but we don't know when this platform will reach its end.

Nevertheless, the TIPAM's network is of continuous nature so I believe that the TIPAM will serve as a cornerstone that will contribute to forming long-term relationships. That is why I changed its name from "market" to "meeting." After it came to be called the "Performing Arts Meeting in Yokohama," there is no performance showcase and almost all of its performances are presented as "pre-performances." The "TIPAM Direction" is run instead of a showcase so that next-generation producers and directors can make their own programs. In short, the TIPAM gives them an opportunity to do what they haven't attempted in their daily activities, so that they can reflect on what they do again. The TIPAM's intention is also to enable them to share the works that are produced in such a way with others. This is very difficult. Along with this, an international conference is also held. Last year, the Open Network for Performing Arts Management (ON-PAM) was created. This is an open network in which many people participate. The ON-PAM is defined as "a network belonging to people" while the TIPAM, as a "venue or platform making such a network reality." I believe that this will serve as an occasion to think about what role we will be able to play and what works we will be able to make, so that we won't walk toward our future just by forgetting about our past.
While Maintaining the Current Basis, It Is Necessary to Consider Young Groups More
Se-hyung Oh : The Hub City of Asian Culture Gwangju is a complex cultural space whose area exceeds 120,000 m2. This space will accommodate an art museum, a theater and other diverse facilities related to Asia. Then, what is the meaningfulness of filling such a large space and how would such facilities be useful? The space began to be formed ten years ago and I'm also worried that such a cultural space encompassing multiple cultural facilities would meet today's needs. Currently, movable networks and programs increase so what would be the meaningfulness of such space-oriented cultural activities? I have continued to participate in the PAMS for the past eight years. When I first visited the PAMS, I thought that unlike Gwangju, an arts market was too early to adopt. In other words, I thought that it was still too early to form relationships through such a performing arts network or showcases in Korea. In contrast, today, I'm wondering if as in the case of Gwangju, projects that encompass culture in one place are old-fashioned. It was with such an antinomic feeling that I was invited as the panel of this round table. We realized something in the process of trying to discover everything related to Asia in Gwangju. That is, in the past, the PAMS has invited many people related to performing arts from diverse countries so it was very fruitful to form an network and to exchange ideas with them while watching showcases. However, in Gwangju, it is currently difficult to work on content related to "Asia."

In Asia, virtually no country has culture that is mature enough to form a market, except some countries such as Japan, Hong Kong and Taiwan. The same is true for exhibitions and other cultural fields. Naturally, it is very difficult to create markets or form networks by presenting showcases. In this context, the PAMS needs to be congratulated on the fact that it has been organized for as long as eight years with such a large scale. Of course, it is true that as in the case of the TIPAM, the PAMS is facing the need to make changes. For the past eight years, what I saw at the PAMS is that many relationships are formed in a great variety. I believe that the PAMS has played the role of drawing paper. That is because at the PAMS, people make friends and invite them. Next time, they see the same friends again and at the same time, they "draw" their international activities or vision on this "drawing paper" called the PAMS. The period of eight years is neither long nor short; it is just the beginning. It wasn't actually a long period but after meeting people several times, these years passed. So even if you attempt some changes at this moment, such an attempt needs to reflect and encompass the PAMS' current basis, existing relationships as well as people's expectations for the PAMS which exist but which haven't been clarified or completed.

When I visited the TIPAMS recently, it had been transformed into a venue dedicated to young artists as well as to experimental multi-genre directors and artists. As Ms. Maruoka mentioned before, I believe that the PAMS has been a venue where performing arts troupes present their works. As for the TIPAM, directors are at the forefront now and artists follow them rather. Directors show a full version of their representative works to show their capacity of planning and producing performances. This is the current direction of the TIPAM. At the PAMS, individual works are selected and artists or representatives come to show them and have meetings. In this process, the artists themselves form a network and introduce their works. So I believe that the PAMS will have more programs for young groups, directors and planners. However, the TIPAM is a private project while the PAMS is supported by the government so the latter is naturally larger. It is necessary to consider such a difference. At first, I considered KAMS a service institution in charge of opening this market. I thought that "Arts management" is about providing a service of refining what already exists, rather than about leading the market and creating something new. It seems that, working in this way for seven or eight years, the Korean public sector actually wants to create new demands, suggest policy agendas and lead this market toward a new direction. In fact, this is comparable to a double-edged sward. In short, it would be time for the PAMS to renew its management and redefine its role, based on its philosophy, values and vision.
Strengthening of the Network or Festival-Oriented Expansion?
Modertor Should the PAMS maintain its current showcase-type market or expand itself to look more like a festival-type market? Or, should it strengthen its networking? What do you think of this?

Gouin It is a very good question. CINARS continues to ask itself this question but it doesn't seem that it has found an answer. But as you mentioned, it would be a good idea to present high-quality works through a festival-oriented market. It is great to show more high-quality performances to a great number of audience. But what is important is not to forget the initial purpose of this market. Such a purpose is a bit different from that of a festival. A festival should be focused on local residents, visitors and participants. However, if you have many visitors, you can form more international relationships as well as those between presenters and artists. CINARS has agents, company representatives and those having different jobs. In other words, CINARS has had these two functions since its beginning so it has considered its role of supporting market touring. If the PAMS also has an aspect of a festival, it will be useful in expanding the base of the audience.

Groote I go to markets basically because I can meet people there. Markets have more opportunities of networking and they give me high-quality occasions. I can also have interesting meetings. A market is quite large so I search for materials on YouTube in advance and I look for and study new information. Looking at the agenda in Seoul, I do research to see if there are interesting events other than the PAMS. My job is to go everywhere and select works so the spectrum of selection should be as wide as possible. So I also go to festivals and concerts. I go to real concerts to find certain opportunities and possibilities while I go to markets to have a wide spectrum of music to listen to. Nevertheless, it is not highly likely to create a new network to develop it into coproduction or collaboration by meeting people and discussing with them just for a few days. In my view, the "festival spirit" will help. Then, there will be more chances of meeting people. However, in a market, festival or concert, networking continues if people gather together. I actually "live" in markets so I believe that what is the most important is to have chances to form relationships with many people and understand each other. If such networking isn't regarded as essential in an event, possibility of collaboration will be limited.

Maruoka What is important is how to make these two functions coexist. A festival is directly linked to works. On the other hand, in a market or platform, those who serve as intermediaries between works and the audience provide information, raise awareness and create new ideas. So a festival and market have different functions. Korea also has many festivals. In this context, the PAMS should think about what identity or what nature it needs to embrace. Of course, it is worth reflecting on why the PAMS tries to adopt the function of festivals in addition to its original function of creating international networks. Is it to attract more audience? Is it to change its way of international exchange when it comes to presenting performances? We need to reflect on these questions first. We will then be able to make decisions by discussing them one by one. It is important for the PAMS not to lose the role that can be played only by the PAMS. As Mr. Oh said, if you have many overseas visitors, you may want to make the event bigger, considering different aspects such as policy, production and participation of local and central governments. However, such expansion is always secondary. The PAMS is an occasion to show to many people the current situation of Korean, Asian and global performing arts and to continue to grow by gathering together many people in one place. I expect that the PAMS will maintain such a framework in the future.

Se-hyung Oh Looking at the PAMS and diverse projects linked to it, I have actually felt that some parts are dissatisfactory. Being organized for nearly ten years, many things went on too fast. So we can't judge everything about the PAMS but we can just review it partially. As Ms. Maruoka said, people reflect on, see and feel something and go. They then come back next time. Anyway, this flow of people has been the most important source of relationships generated by the PAMS and it has been a bowl containing people's heart. So what is vital for the PAMS is to play the role of this "bowl" containing rich discussion, to share it with local staff and participants and to receive feedback from the participants. The relationships that are formed at the PAMS and new programs that are born of these relationships are not created overnight. This is the result of the relationships that start a year before the event takes place, through email communication with many persons concerned. Such relationships become concrete at the PAMS. So I'm convinced that the PAMS is an occasion to better understand and enrich the relationships that have been formed so far and to enable other things to be born next year.

The PAMS has become a "nest" in the Korean arts and culture scene. Meanwhile, Gwangju and Daejeon also have meetings on Asian performing arts. In this context, there will be continuous attempts to show some specialized programs or very experimental performances and to create a market focused on one specific area. Now, we expect that the PAMS, which is comparable to their "oldest brother," will play the role of strengthening networks along with them. Over the past ten years, more people have wanted to work in the areas such as arts management, planning and international exchange and more jobs related to these areas have been created. In this context, the PAMS should not only have its own programs but it should also try to create networks and programs that interpret small-scale attempts taking place in Korea. Gwangju would certainly plan and create such programs: networks related to Asian content and Asian arts and culture. But Gwangju alone still wouldn't be able to develop projects that could become global or large enough. That is why it would be great to make use of the PAMS' results or networks to generate synergistic effects.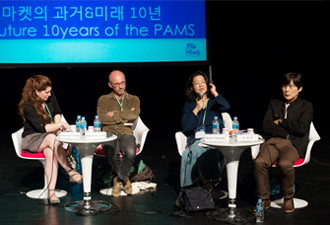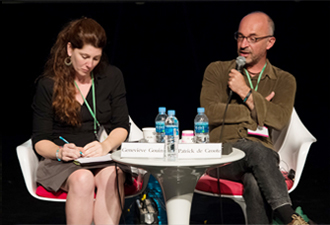 Introduction of the moderator and panels.





Lee Jung-hun (moderator)
Lee Jung Hun studied cinematography at Chung-Ang University and he served as a professor at the Department of Cinematography of Youngsan University. He was also in charge of planning at Ulsan Culture & Arts Center. He is currently a representative of the Ulsan Jazz Festival Association and general director of the Ulsan World Music Festival (UWMF) and APaMM.

Geneviève Gouin
Geneviève Gouin started serving as the communications director of CINARS in 1995. She then worked for John Lambert & Associates (1997) and for DynamO Théâtre (1999-2002) as a market developer. From 2003 to 2012, she worked as an independent consultant specializing in international touring and market development with a number of organizations including the National Arts Centre in Ottawa before becoming a director at CINARS in 2013.

Patrick de Groote
Patrick de Groote is directing international music and arts for various festivals in Belgium and curating various events globally. He is also coordinating the international festival network EFWMF and is a happy fan of Korean culture.

Hiromi Maruoka
Hiromi Maruoka is the secretary-general of PARC and she has served as the director of the TIPAMiY since 2005. She created the Postmainstream Performing Arts Festival in 2003 and has worked as its programmer since then. As a producer, she introduces diverse foreign performances to Japan.

Oh Se-hyung
After graduating from the University of Seoul, Se-hyung Oh attended the playwriting and criticism program at the Performing Arts Academy and earned a master's degree in arts and culture management at Sungkonghoe University. He directed the troupes "Al" and "Ida" and also worked as the artistic director and producer of CH Play. He worked for Gyeonggi Cultural Foundation from 2005 to 2011 and served as an editor of Weekly@Arts Management from 2010 to 2011. He is currently heading the arts theater project team at the Institute of Asian Cultural Development.


Yumi Hwangbo_Chief Editor, weekly@KAMS/theApro
PAMS