본문 영역
Explorers of a New Ecosystem

Writer : Heo Young-gyun, Director of 1℃ Arts-Performing Arts Publishing House 2016.02.18 Asia > Korea
Explorers of a New Ecosystem
[Spotlight] 2015 Art Commentary_ Environmental changes in the world of Korean performing arts
---
In recent years, the term "ecosystem" has made regular appearances in discourses on the art world. The notion of an ecosystem implies that the biome (plants and animals) and their habitats are not deconstructed as distinct; rather, they exist as a single organism. What is within the space as well as the relationships among these entities within the physical environment are viewed as integrated. In other words, there is really only one space. The appearance of this concept marked the recognition of the reciprocal relationship between the arts and the physical environment. The concept of the arts world was no longer as an assembly of individual arts, but as an abstract whole.

This subject of ecosystems was a key discussion topic at the 2015 Art Commentary, held at the I-Eum Center on December 15, 2015, where the theme was "environmental changes surrounding art." Further subthemes presented were "the changing ecosystem of the performing arts sector" and "shifts in performing arts patrons." Topics relevant to the performing arts and visual arts fields were discussed by different panels, as were changes, pressing issues, and relevant experiences of the past year. The performing arts panel comprised Ahn Eun-me, Artistic Director of Eun-Me Ahn Company, Director Kim Kyung-hee of Creative Group NONI, as well as Kim Hyung-kun and Lee Il-woo Lee of Jambinai, with Park Ji-sun of Producer Group Dot as the panel moderator. This event was especially illuminating in the matter of how the panelists have perceived changes in the ecosystem and in audiences, and how they plan to adapt and respond to these changes.
Ecosystem Expansion:Finding a Market for the Producers
The band Jambinai debuted in 2010 and began touring overseas circuits in 2013, with a total of 52 performances conducted in 35 cities in 14 countries in 2014. In 2015, the band held 44 performances in 14 countries, an impressive feat as their overseas shows greatly outnumbered their local gigs. Alongside the typical band instruments of guitar and drums, Jambinai incorporates Korean traditional instruments like the haegeum (Korean traditional string instrument), geomungo (Korean traditional six-stringed zither), and piri (Korean traditional double reed) to produce a contemporary sound. Consider them a band, not a "fusion band," that has made inroads into the international market.

For the Eun-Me Ahn Company, one year has been too short. In 2015, their main stage was Paris, France, where the group performed a dance trilogy, Dancing Grandmothers, Dancing Teen Teen, and Dancing Middle-Aged Men to a 1,000-seat theater for eight days at the 100th anniversary of diplomatic relations between Korea and France. This was followed by a four-city concert tour, performing to an estimated 13,000 patrons in all. Seeing how demand and audiences for this genre are admittedly lacking in Korea, the troupe plans to concentrate more on overseas performances rather than on local shows both this year and the next, a natural decision for arguably Korea's most well-known modern dance group.
Dancing Teen Teen youth performance at the Paris Autumn Festival
©Ko Hyung-kyun
Ahn Eun-me, Artistic Director of the Eun-Me Ahn Company © Gwak Eun-jin
It becomes abundantly clear why artists are choosing to enter the international market. They seek an arena that they can call their stage and their audience, within which they can both expand and ensure their efforts.

Jambinai's advancement into the international market was practical, given the downsizing of the domestic music market. The realistic likelihood of a full-time musician getting by at the time in Hongdae's indie music scene was around one percent. The members of Jambinai graduated with majors in Korean traditional music, and were focused on making music their career. They had to secure a stable market position in order to survive as professional musicians, which prompted them to explore beyond Korea's shores. Their blending of various sounds helped them to penetrate into mainstream overseas markets that harbored no biases against traditional instruments. It was this ambiguity in their crossover musical flavor that worked against them in Korea, where they were unable to participate in both traditional music and rock music festivals. It is there undeniable that the acceptance of their musical style by international scenes is a welcome change.

Founded in 1988, the Eun-Me Ahn Company had an early debut in the international market. In those days, things like subsidy schemes or professional dance performance planners were unheard of, and it was exceedingly difficult to establish oneself locally as a contemporary dance performer. As a result, Ahn shifted her focus to New York, where she spent 10 years choreographing her own works. One can certainly see remarkable progress when contrasting Korea's arts scene during those times with now. Additionally, sources of support like funding and supporting agencies have sprung up, no longer requiring an artist to self-support his or her pioneering endeavors in a foreign country. In other words, there is a new character in the arts ecosystem, what is known as the "support system."
Jambinai Director Kim Hyung-kun (L) and member Lee Il-woo (R) ©Gwak Eun-jin
The band Jambinai
©Jambinai
Support Systems: A New Member of the Performance Ecosystem
Systems of structural support in Korea are relatively young. From an international perspective, there is overwhelmingly strong funding and support in the Korea of today, and aware of this fact, many artists are trying to obtain these benefits. Artistic Director Ahn Eun-me related a different take on the situation, suggesting that budding artists avoid gigs that rely on funding when starting out. It is when you have to survive on your own capital that you grow a means of survival in the industry. She continued to explain that artists will then have to manage their finances differently and will use this to guide them between projects that are viable and those that are impossible. Director Ahn spent 10 years in New York before returning to Korea, and acknowledged the transformed situation currently ongoing in the country, noting that the establishment of the Korea Arts Management Service (KAMS) and other cultural centers allowed for tremendous networking opportunities for artists to appreciate and take advantage of.

It has only been about 25 years since Korea's arts ecosystem has seen its new addition of such support systems. Support systems forge greater close-knit relationships with other organic entities in the ecosystem on a daily basis. A vital condition of the audience, or rather, the consumer, is required for the performing arts field to sustain healthy growth and maintain its ecosystem.
Ecosystem Consumers: Discovering the Audience
Even though Creative Group NONI largely embraces outdoor venues over theater spaces for their "location-specific" performances, Director Kim Kyung-hee had started his career as a stage designer and understands the limitations of theater audiences. A theater space holds as much restrictions as it does endless possibilities. For Director Kim, the outdoors provided an answer as well as inspiration for his works, which are based on the unraveling of text he comes across in this space. And when you change the direction of your work, your audience changes too. They are not only the people who intentionally come to view your work, but also those who chanced upon and come to experience the space. Through the creation of a new performance methodology, we can discover new audiences.
Coproduction with France's Lieux Publics STATION
©Creative Group NONI
Director Kim Kyung-jin of Creative Group NONI ©Eunjin Gwak
Jambinai is an excellent example of how overseas success translates into local recognition and popularity. However, even with wildly different crowd reactions to them in a mere difference of two years in 2013 and 2015, Jambinai voiced that change was not as quick or great as they had expected, particularly when compared to the situation that had greeted their role models in the Japanese scene. Jambinai decided that, instead of trying to reach an unspecified audience, they would concentrate on developing their unique brand of band and performance. By delivering unforgettable concert experiences to the handfuls of viewers they had, they could increase audience loyalty. On another note, despite playing more stages and gigs, they have not encountered greater revenue as modern audiences are reluctant to pay for music or purchase music albums. It won't be easy to face the changes lying ahead, but the band's strategy is to build on their scarcity value.

It is apparent that the arts world is not expanding as much as the amount of resources pumped into the sector. Artistic Director Ahn expressed that with a capitalist society, society is controlled by the consumer, and the arts scene is not too far from this truth. Eventually, the growth of the arts market will be accompanied by the growth of arts consumers.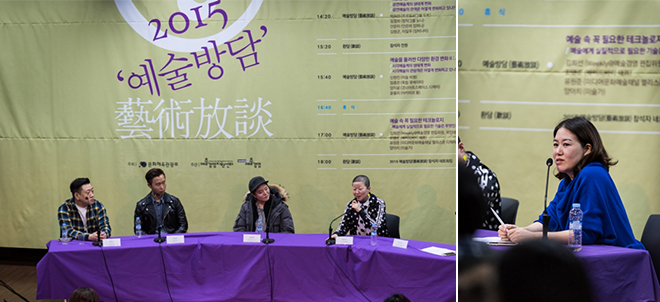 2015 Art Commentary's four panelists and moderator Park Ji-sun of Producer Group Dot (R) ©Gwak Eun-jin
Ecosystem Growth: Proposals for Sustainable Growth
The question remains, how can we develop our arts consumers? Ultimately, the way to develop them is through the long-term vision of education. Yet, to develop patrons who truly understand and are curious about colors, sounds, and movement is a difficult task with the current reduction -- abolition, even -- of arts and physical education.

This is not something that can be resolved solely by the efforts of artists themselves. This is beyond the arts world and requires a systemic transformation and new administrative measures. The best that artists can do is to find the gaps in this environment, squeeze in, and then discover and perform their role in it. Jambinai sought ways to survive with their Korean traditional instrumental sounds, reaching out to audiences not as traditional performers but as musicians. Creative Group NONI explored new methods of performance to reach new audiences. Against the barren context of poor structural support, the Eun-Me Ahn Company developed their own content to survive. These examples demonstrate that an alternative is to go beyond the biome, and to find and expand your own habitat.
<2015 Art Commentary event details>

Date and Time: 15 December 2015, 2:20 p.m.
Location: I-Eum Center
Theme: Environmental Changes Surrounding Art I: Changes in the Performing Arts Sector
Panel: Kim Kyung-hee (Creative Group NONI), Kim Hyungkun (Jambinai), Ahn Eun-Me (Eun-Me Ahn Company), Lee Ilwoo (Jambinai)
Moderator: Park Ji-sun (Producer Group Dot)

Heo Young-gyun started his career as editor and performance creator for the LIG Arts Foundation's quarterly publication, interVIEW. Following that were stints as editor of the publication department of the National Theater Company of Korea, programing coordinator with the Asian Arts Theatre of the Asia Culture Center, and creative positions at the Seoul Fringe Festival, Dali Incubating, and Hi Seoul Festival, amongst others. He currently manages the Arts-Performing Arts Publishing House 1℃, and maintains an interest in bringing the arts out of performance circles and exposing them to the world.