본문 영역

[Festivals] Hongdo in the Middle East: 2016 Traveling Korean Arts Goes to the Abu Dhabi National Theatre

Writer : Ko Kangmin (Director, Playfactory Mabangzen) 2016.12.07
Hongdo in the Middle East: 2016 Traveling Korean Arts Goes to the Abu Dhabi National Theatre

---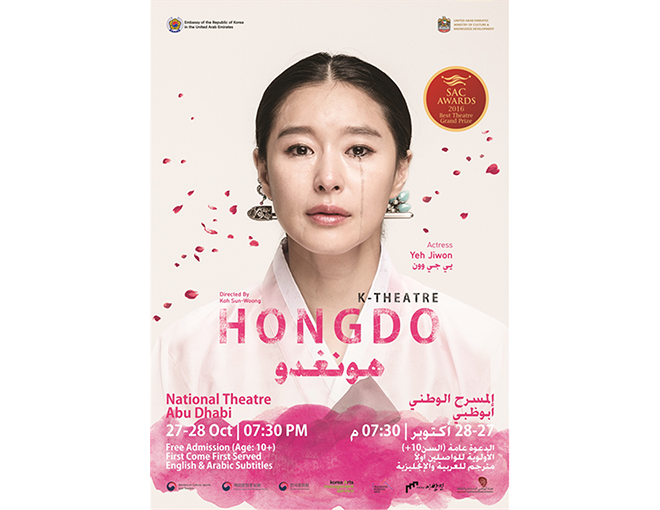 ▲ Poster for Hongdo © Playfactory Mabangzen
Moneyed oil merchants wearing pure white kandura, driving luxury cars and living in lavish mansions. Sequestered women covered from head to toe in black abayas, forced to submit to a premodern social system where polygyny is widely practiced. Dubai, the city of dreams, where, next to pristine deserts of gold, urban growth takes place on a scale that has to be seen to be believed. This was how I imagined the United Arab Emirates. I wondered: how would Hongdo, a play popular with Korean audiences, be received by audiences in this unknown, faraway land? This spark of curiosity was behind the performance in Abu Dhabi.
Inspired by a classic of preliberation Korean theater
Hongdo, first presented by Playfactory Mabangzen in 2014, is an adaptation of a play called Deceived by Love, Despairing over Money (written by LIM Sun-gyu), which premiered in 1936 and attracted the largest-ever audience in the history of preliberation Korean theater. A production that is characteristic of the Sinpa (New Wave) style, Deceived by Love, Despairing over Money was a conventional melo-drama about the unhappy fates of a gisaeng (courtesan) named Hongdo and her older brother Cheolsu.
Since premiering in 2015 at Towol Theater at the Seoul Arts Center, Hongdo has been a favorite of theatergoers. We staged it at the COEX auditorium in 2016 and were invited to perform in twelve cities across the country. The production also earned high critical acclaim: its honors include the Seven Best Korean Plays award, the Seoul Arts Center Arts Award, and the Dong-A Theater Award for best acting. In 2015, after numerous voices in the local and international theater sectors highlighted the production's potential for performances abroad, we began preparing to take it abroad, and plans are currently under way to tour China.
Hongdo was selected in 2015 to be part of Traveling Korean Arts, a Korea Arts Management Service program that arranges overseas tours for deserving performing arts pieces. Following an invitation by the Korean Cultural Center in the UAE in 2016, we began preparing to stage Hongdo in Abu Dhabi. The venue chosen for the performance was the Abu Dhabi National Theatre, which has a seating capacity of over 2,200.
Abu Dhabi's underdeveloped theater scene
In May 2016 we received some materials in the mail from the director of the Abu Dhabi National Theatre. Included were technical specifications in the form of hand-drawn floor plans and an equipment list that had obviously been hastily compiled. A note explained that the materials might be out of date. Our technical director made repeated requests for an updated equipment list, but it was only after we arrived at the venue, on setup day, that we learned what was available and hurriedly arranged to borrow the things we didn't have.
Having organized numerous overseas performances of Killbeth, we were confident that we had a measure of know-how. Yet the tour in the United Arab Emirates proved to be an entirely different experience. Our local contact, a staff of the Korean Cultural Center in the United Arab Emirates, visited the Abu Dhabi National Theatre on multiple occasions in response to our request for a reliable equipment list, but the only response he got was "Inshallah," which is Arabic for "God willing." In our situation, we didn't even know who to complain to.
Another challenge was the stage platform. The set of Hongdo is put together using the stage platforms or risers of the local venue. All public theaters in Korea have a large number of these platforms in supply, so over tens of tours, we've never had a single problem with set construction. Yet it was impossible to determine ahead of our performance at the Abu Dhabi National Theatre whether the venue had the platforms we needed. Our contact at the theater told us only that the theater had similar articles, and we weren't even sent any pictures. We finally had to ask a local Korean company to manufacture the parts we needed for the legs of the set piece, and we decided to send the flat surface of the set piece by air freight. Something had come up at the theater that had resulted in a cancellation of our preperformance visit, so the technical director and I saw the venue for the first time a day before setup. Seeing platforms and timber piled up backstage, we were dumbfounded.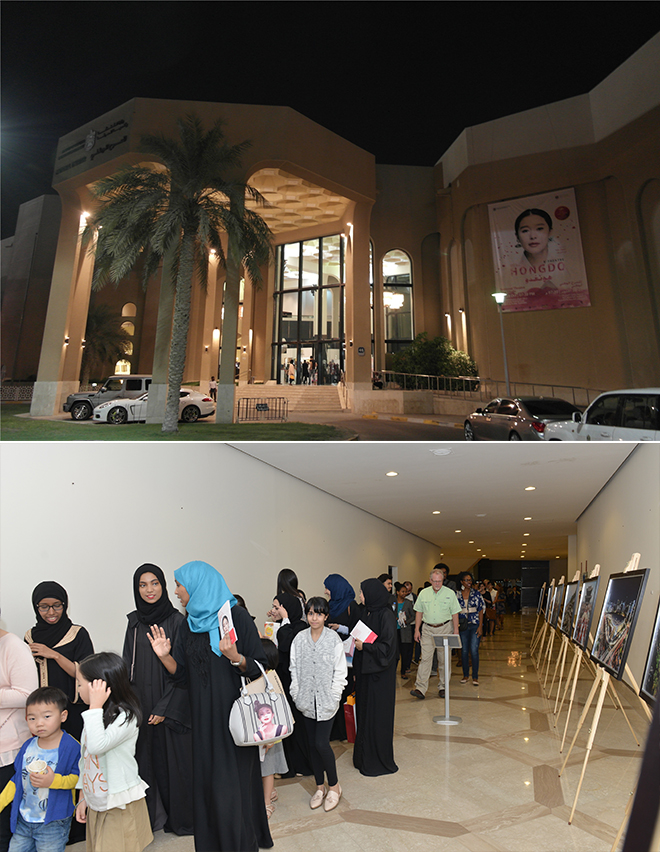 ▲ From the performance of Hongdo at Abu Dhabi National Theatre © Playfactory Mabangzen
Persistent Islamic taboos
Around four or five years ago, our company received an invitation to perform Killbeth at the Fadjr International Theater Festival in Iran. But when the organizers requested that the sleeveless costumes be altered and our female cast members' faces be covered up in black fabric, we declined with little hesitation. What with Islam being the official religion in the United Arab Emirates as well, we expected there would be some constraints for our performance in Abu Dhabi. But the problems were more serious than we expected.
The local staff member at the Korean Cultural Center in the United Arab Emirates, who had been asked to translate the English script into Arabic, pointed out problems in the script. The translator told us that if we didn't "fix" them, locals in the audience and members of the royal family would likely walk out. In accordance with the local organizers' request, we modified a scene in which women suggest having some drinks (they don't actually drink) and another in which a male character appears shirtless in front of his daughter-in-law. We also had to adjust the costumes of our female cast members to include knee-length garments that would cover their heads and most of their bodies. Words that the local organizers considered provocative were also changed.
But there was one scene that our writer and director, KOH Sun-woong, refused to alter. It was the scene in which Hongdo, who has decided to become a gisaeng, meets the owner of the gisaeng house. KOH insisted that it was impossible to express the turbulence of Hongdo's life without including this scene as written. The local staffer informed us that if the scene, part of the first half of the play, were to be performed as written, the members of the royal family would immediately walk out of the theater.
People who have seen Hongdo might wonder at this point which of its scenes could be considered objectionable. Other disagreements arose out of cultural differences, but due to the official nature of the program, we had to comply with most of the local organizers' requests.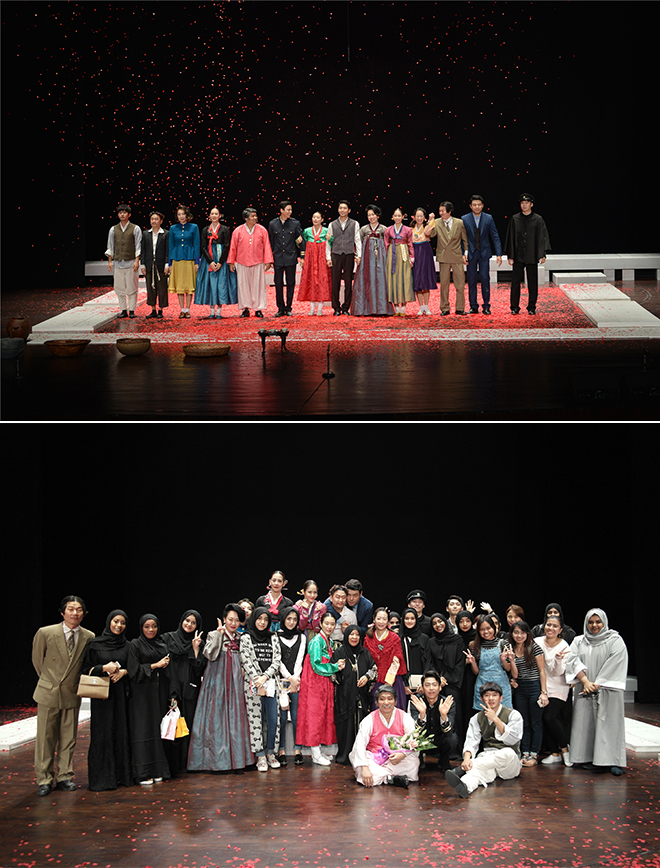 ▲ From the performance of Hongdo at Abu Dhabi National Theatre © Playfactory Mabangzen
Partial success, prospects for the future
All these ups and downs behind us, we finally arrived in Abu Dhabi and performed the play twice. The local organizers and audience members gave us an extremely positive reception. We saw a large number of local women, many of them dressed in abayas, wiping away tears. After the show, much of the crowd lingered, as if not wanting the experience to be over. Personally, though, I was disappointed.
The first reason for my disappointment was the subtitles. When performing Korean plays abroad, the most important detail is the subtitles. We knew this from our previous experiences, so it was an area we paid special attention to. We provided both English and Arabic subtitles, but the translation process encountered some setbacks. We had limited time to prepare, so the English translations weren't properly proofread. As a result, the Arabic translations weren't quite polished either. Experience had taught us how important subtitles were, yet due to time constraints we weren't able to prepare properly. It's a chronic issue.
The second reason for my disappointment had to do with the venue. The Abu Dhabi National Theatre was not an appropriate venue for a theater production. It might have been expected, considering that the city doesn't have a strong theatrical tradition. I regretted my decision to stage what had turned out to be a conventional theater performance. What would it have been like, I wondered, if we had performed not in a dark, stuffy theater but on an open, airy outdoor stage?
Such disappointment notwithstanding, I also saw tremendous potential, specifically in the universality of drama. I saw audience members in a place unknown to me laugh and cry watching our production. I discovered that certain Confucian elements of Korean culture resonated with Arab audiences. This was the most valuable outcome of our performances in Abu Dhabi.

Director and producer, Playfactory Mabangzen
(Previous roles have included producer at ArtsPlay and program director for the Korean musical group TAROO.)