본문 영역
The Pride and Vitality of Israeli Contemporary Dance

Writer : Gwak Ahram, Chief Manager of International Relations, South Korea Section, International Dance Council 2016.03.02 Arab > Israel
The Pride and Vitality of Israeli Contemporary Dance
[Trend] International Exposure: A Platform for Contemporary Dance in Israel
---
The 21st International Exposure, Israel's esteemed showcase for contemporary dance, was held in Tel Aviv and Jerusalem from December 2 to 6. This year's event saw 54 performances by dance troupes and choreographers from 60 organizations and drew 133 overseas guests from 30 countries. Top choreographers such as Ohad Naharin from the Batsheva Dance Company, as well as luminaries including Yasmeen Godder, Inbal Pinto, Barak Marshall, and Sharon Eyal truly owned the stage.
To many outsiders, Israel is a land that is most familiar through its holy scriptures. Yet, when it comes to contemporary dance, Israel presents another face to the world, one that is full of excitement and intrigue. Reigning household names in Israel such as Ohad Naharin, Hofesh Shechter, Emanuel Gat, and Itzik Galili live up to their reputations. Their work at the Seoul International Dance Festival (SIDance) and the 2014 International Exposure has been exquisite, and it has led the way for other vibrant young Israeli artists.
Scenes from (International Exposure) 2015 ©Ahram GWAK
The format and setup of this year's event were not very different from those of the 2014 festival. Most of the performances were held at the Suzanne Dellal Centre in Tel Aviv. Last year's excursion was to the Kibbutz Contemporary Dance Company in Galilee, whereas this year's destination was the Vertigo Dance Company's Vertigo Eco-Art Village. A highlight of this year's festival was a series of site-specific dance performances conducted with Jerusalem's Mahane Yehuda Market as the backdrop. It was unfortunate that a personal trip to Hungary forced me to miss the excursion and the market performances.

The 2015 festival kicked off with Itzik Galili's Man of the Hour. Born in Tel Aviv and featured at SIDance 2008, Galili returned to the Israeli stage after spending more than 20 years working in the Netherlands. His piece, a bold hybrid of opera and contemporary dance, was a co-production of the Holland Dance Festival and Theater Amsterdam with the Israeli Opera and the Suzanne Dellal Centre. The magnificently colorful stage amounted to a glorious homecoming for Galili. The Yossi Berg and Oded Graf Dance Theatre's Come Jump with Me, based on a true story, saw two dancers explore the political, social, and personal realities of today's Israel through their identities as choreographers, dancers, and artists. OCD Love by Sharon Eyal and Gai Behar, who were first introduced to us through MODAFE 2014, was a huge hit with audiences last year. The intuitive expressions and body curves sensually conveyed by its six dancers left a deep impression on viewers and remained a talking point on the circuit even after the event. Yasmeen Godder, a noteworthy figure on the Israeli dance scene, once again delivered a new performance worthy of her reputation: Climax, an epic 180 minutes in length (including a 20-minute intermission), was a site-specific work commissioned by the Petach Tikva Museum of Art. The piece saw six dancers displaying aggressive expressions and exaggerated gestures, approaching audience members and inviting them into the circle with them—only to release them and repeat the cycle throughout this long journey. As usual, Godder's work succeeded in dividing her audience. The festival closed with Ohad Naharin's Last Work. While the Batsheva Dance Company almost always produces strong and sensitive, yet smooth and powerful pieces, this performance appeared to favor image and message over the company's typical emphasis on movement.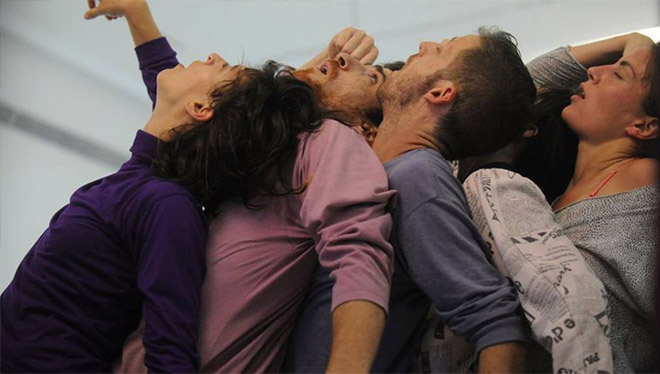 Climax by the Yasmeen Godder Company ©Yasmeen Godder Company
Overall, this year's International Exposure can be summarized in two key points.

Firstly, the works raised nagging questions, both directly and indirectly, over whether art can change society. They conveyed the artists' dilemmas surrounding their role in the midst of real issues such as war, terrorism, the plight of refugees, and the possibility of economic collapse—concerns that we cannot turn our back on, for they threaten the survival of humanity. Even though I was unable to linger and chit-chat for very long due to a packed schedule, I noticed that war and terrorism made regular cameos even in the shortest of conversations. Naturally, this does not mean that the performances centered only on those two themes. However, we were asked to contemplate the role that art plays in society, as well as how we can survive these crises and what we need to do within this context. The more I viewed the works of artists exploring these questions, the stronger the questions became. Can art change the world? Is that even the role of art?
| | |
| --- | --- |
| | |
| Yair Vardi (L), director of the Suzanne Dellal Centre, and Israeli choreographer Itzik Galili (R) ©Ahram GWAK | Photos of Israeli Choreographers Association members ©Ahram GWAK |
My second realization concerned the energy of the young and promising Israeli choreographers. The festival introduced several up-and-coming Israeli choreographers discovered through Curtain Up, a platform hosted every November to showcase emerging Israeli choreographers. One of the most memorable works was 12 Postdated Checks by Ella Rothschild, who together with her former roommate explored the housing shortage facing young Israelis today. My personal favorite was Some Nerve by the Rotem Tashach Dance Projects, also selected by Israel's City Mouse Magazine as one of 2015's top dance performances. This piece featured a continuous dialogue among four dancers in which they portrayed themselves not as members of society but solely as individuals searching for meaning and purpose in life. It showed us how today's young people view themselves, and this threw up other meaningful questions. Apart from these works, other impressive pieces were Ofir Yudilevich's Gravitas, a simple piece staged on a special "air floor," and a presentation by the Kibbutz Contemporary Dance Company, Croissant Al Ha'esh, that was a joint production between Eyal Dadon, who won first Prize at the 2015 International Competition for Choreographers in Hannover, Germany, and Martin Harriague, who has received awards from the International Solo-Dance-Theatre Festival Stuttgart, the Hannover International Competition for Choreographers, and the Copenhagen International Choreography Competition.
Yair Vardi, director of the Suzanne Dellal Centre, mentioned that the increasing number of young choreographers is creating innovative and diverse works over the last two years even in the absence of government support. This trend was a breath of fresh air in the choreography world. The emerging young choreographers provided a challenge for more established choreographers by unleashing a new direction with their work—an exciting attitude mirrored in the pride that Vardi exuded for his country's contemporary dance performers.
The Suzanne Dellal Centre for Dance and Theatre, venue of International Exposure ©Ahram GWAK
Considered the home of Israeli dance, the Suzanne Dellal Centre for Dance and Theatre is also respected as the most important theatre in Israel. Most of the performances at International Exposure were held there. An even more interesting venue was Warehouse 2, a unique alternative space located in the ancient Jaffa region that is run by the Israeli Choreographers Association.
Almost all of Sunday's events were held at this second location, an old warehouse that has been revamped as a theater and exhibition space. However, this cultural venue is more than just a pretty (and practical) face. The 55 companies that currently make up the Israeli Choreographers Association contribute toward the operating expenses here, even without a steady stream of public funding. Throughout the year, these companies create, rehearse, and perform their works at this site, and they also host exhibitions and events. That makes Warehouse 2 a fresh, creative space for Tel Aviv's dance scene, one that that promotes solidarity among the choreographers, as they are free to operate autonomously and form their own ecosystem with audiences. As I looked around, I wondered if we in Korea could achieve the same results if we had a similar space? I now have an incessant yearning to find out.
Warehouse 2 by the Israeli Choreographers Association ©Ahram GWAK
I am full of curiosity regarding 2016 International Exposure, and I wonder what new and thought-provoking works the two respective groups of emerging and established choreographers (e.g., Ohad Naharin, Yasmeen Godder, Sharon Eyal, and Roy Assaf) will present this year. I am eager to see how their pride translates into ideas that will challenge the Israeli dance world.
©KAMS

At present the Chief Manager of International Relations of the South Korea Section of the International Dance Council, Gwak also plans and oversees the operations of various projects involving choreography and dance troupes, both locally and abroad, to promote Korean choreographers and dance companies in overseas markets. This includes collaboration with international festivals and international relations work with the Seoul International Dance Festival (SIDance), company SIGA, JJbro, the Sungsoo Ahn Pick-up Group, the Ahnsooyoung Company, and the Maholra Company.